Our Founder: Brian Talley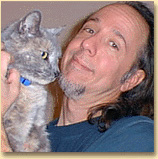 Brian Talley
Founder, Moondog Audio
Restoration Services
Pictured here with featured archivist,
Loretta, 3rd Cat from the Sun
"Archiving is the art of collecting and preserving material. Whether it's historical or personal, archives of your recordings create an important link with your past. I first discovered the importance of archiving when my mother threw away my favorite 45 (and picture sleeve). I've been an avid collector and preservationist ever since. I hope you enjoy your experience on the web site - and I look forward to helping you."
Biography
Brian Talley is a veteran musician, music collector, and archivist. He was born and raised in Louisville Kentucky where he was exposed to all kinds of music at an early age. He played his parents old records and was always eager to hear new music.
He was (and is) an ardent Beatles devotee as well as many other classic rock groups. While in Louisville, he provided his personal collection and commentary for a 3-day John Lennon Retrospective for WQMF FM. His collection included the complete works from the Beatles years to the solo years, including rare and unreleased recordings.
He soon gave in to his passion for music and became a professional drummer/musician. He started playing professionally at 15 and developed repertoires of 60's music, pop, Reggae & Ska and the Blues. The band opened for numerous major acts including The Stranglers, Toots and the Maytals, Max Romeo, and The Bonnie Hayes Combo.
He also has a background as a professional artist and was showcased in many venues early in his career. He did graduate work at Tulane University in New Orleans, a city with music roots all its own.
When he retired from the road circuit Brian continued to follow his passion for music by archiving and collecting rare and unreleased recordings in various genres. In Los Angeles, he worked as a buyer for records stores and music distributors to support his collecting habit. He also contributed to various music magazines, including an article on Sound Mastering for "Ice". For several years he ran his own import CD business specializing in rare and out-of-print recordings.
His vast knowledge of music was put to use in the movie industry where he provided music and historical research for various motion pictures for Warner Brothers, Disney, and independent films including "Batman".
Over the past 10 years, Brian has embraced the digital revolution. He became proficient in recording, digitizing & cleaning of old recorded formats for archives and/or release. He worked in studios and as a consultant specializing in noise reduction, de-clicking of vinyl or lacquer sources and re-equalizing cleaned tracks.
Brian founded Moondog Audio Restoration Services in 1997. Since then he has worked with an impressive assortment of clients including Warner Brothers (Alice Cooper), Ellis Hall (Tower of Power), Peter Noone (Herman's Hermits), Eddie Brown (Joe & Eddie, Crescendo Records) Edward Tree (Premastering) and Maestro Alex Gregory.
Moondog Audio Restoration Services will lovingly restore your audio treasures. Find out what we can do for you!